Experience Mekong Delta 1 day



Where is Cai Be and Vinh Long ?
Attracting most of the travelers in Vietnam and Oversea in the world, Cai Be is famous for floating market and VinhLong has a thousand hectares valueable fruit orchars along with the handicraft villages.
About 105km away from Ho Chi Minh City in Vietnam. The eco-tour with bicycle to explore the nature, local people culture and custom by boating along the canals and river system with seeing the greenery landscapes, stilt-houses, fishing boats, floating market specially, etc.. Vietnam By Bike Travel Company Limited will help you to schedule an Experience Mekong Delta 1 day for your more meaning holiday.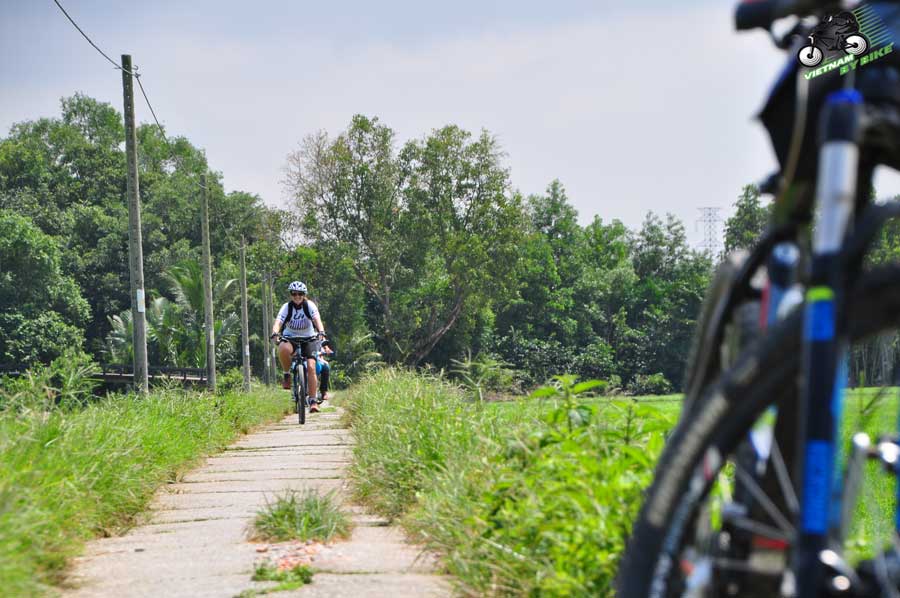 Time to Travel There ?
You can travel to there in any season in a year with a warming temperature (average 27oC in a year).
You can choose to visit and visit this area of Cai Be any season of the year, each season will certainly bring your personal pleasure and satisfaction.
How to get there ?
You can choose to travel by motorbike or car which depends on the preferences and traveling period. If you want to have a lot of interesting experiences and see the scenery along the road, you can choose a Mekong Delta Tour of Vietnam By Bike: your family or your group biking together is a great choice for holiday because it ensures the safety and health of the entire delegation.
Where to eat ?
Coming to Cai Be, is a land of many delicious fruits of the huge colorful landscape. Cai Be is famous for its many specialty fruits such as: Durian, rambutan (sweet durian origin from Cai Mon in Ben Tre). Nam Roi pomelos, which is brought from Binh Minh (Vinh Long), grapefruit… The longan and cilantro are two kinds of orange / Especially famous types such as: Hoa Loc mango, Taiwan mango…
In addition, there are many other fruit trees such as: guava, Vietnamese apple, tangerine, jackfruit, plum, peach… Cai Be gardens are classified as " The fruit has four seasons, so every season so visitors to Cai Be in every season is filled with many kinds of delicious fruits. Visiting Cai Be, visitors can go in the gentle blue of the Mekong Delta. The people here are gentle, honest, sincere and hospitable.
What is the attraction ?
Come to Cai Be – Vinh Long, you can also go to other famous places such as:
My Thuan Bridge: If you have the opportunity to travel Vinh Long or the western provinces, stopping shooting with this special architectural bridge will not be missed, as a special mark in the tour. Journeys.
An Binh Island and Hoa Binh Phuoc Island: Located at the beginning of the islet of Minh (where is the name of "fruit kingdom"), the mother of alluvial soil fertile, rich, Variety of fruit trees characteristic of the West. Therefore, the trees and the forest ecosystem here also grows very well.
Tien Chau pagoda: This is a beautiful temple with cool and spacious campus with high cultural value so it attracts crowds of Buddhists and nearby tourists to visit every day.
Truong An Tourist Area: with poetic and romantic scenery, infrastructure as well as ponds and lakes, trees and recreation areas have made the Truong An Tourist Area an advantage. in the most beautiful and ideal destinations of the Mekong Delta.
Trending Posts
Follow Us On Facebook