Vietnam By Bike Travel Co., Ltd has all kind of bicycle such as Kid bicycle, Road Bicycle for Triathlon cyclists, Mountain Bicycle for adventurers, Hybrid of the well-known brands of Cannondale, Trek, Specialize, GT, Giant...
Bicycle for Vietnam Tours/Holidays:
We mostly have been organized for the mountain and hybrid bicycle so that we had owned the high quality mountain bicycles for adventurers with lightweight alloy frames, 24- to 27-speed gearing, disc brakes and Shimano components. Mountain bikes all have front suspension.
Vietnam By Bike has a fleet of Cannondale, Trek , GT mountain bikes and any road bike . Our bicycles are available in sizes ranging from P, S, M, L, XL, XXL. Please note that a certain frame model is not guaranteed and mention the kid bicycle if any.
On Vietnam By Bike Tours include bike hire in the tour price, while we offer bike hire as a supplement in case you prefer to bring your own bikes. Prices vary depending on the length of the destinations and the countries in Indochina, please check the tour itinerary (included or not included) for the bicycle type.
Our Bicycle For Rent Bicycles are also available for general rental from our offices in Saigon on an availability basis. There is a small case that all our bicycles are out on tour and we will then be happy to assist you with finding a bicycle elsewhere.
In case, you want to ride it alone or just need a bike for a day, the following is rental prices per day from Ho Chi Minh city and free delivery in city for from 5 bikes only and pick up and drop plus 3 USD/bicycle/1 way.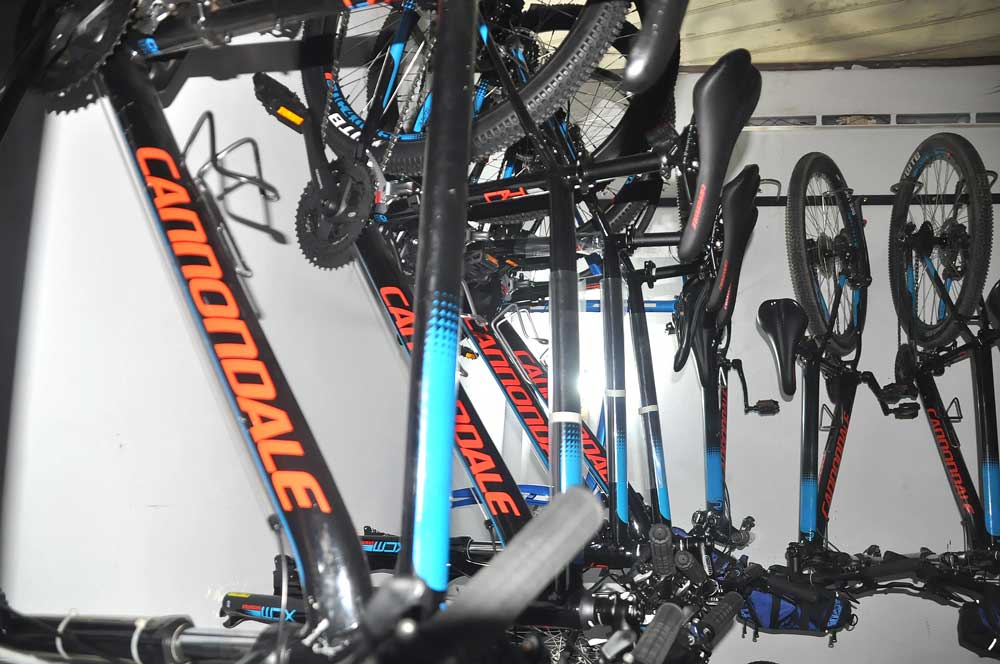 When you rent a bicycle which means it is included a helmet & bottle cage, if you wish to have more accessaries as baggage racks, pump, trailer, professional pedal, cleat shoes, camera,... please add on the surcharge.
Our bicycles are in new & renew once in 3 years & alway test carefully before running a tour. We always carry spares for every emergency, plenty of extra tubes, extra wheels for group 5 - 8 cyclists and a full 1 or 2 bicycles for group more than 8 cyclists.
For the unprofessional & women cyclists who wish to have a comfortable bicycle, Vietnam By Bike's Bicycles are the best choice with the set of comfortable facilities with the bicycle when we run out on all Vietnam Bike Tours: Thick Seat Gel, Large Pedals, etc..
Our Van/Bus/Truck for Rent
All of our mechanic guides & drivers had trained & experienced in cycling tours with the best attitude along with the traveler's cyclists, they are one of the most important part of the Vietnam Bicycle Tours. If you wish to own them to need the help, to carry the bicycle, bring your luggage so that you can email us booking@vietnambybike.com to solve your right valuable supporting.