Overview
access_time
Duration
11 days / 10 nights
directions_bike
Distance
550 KM
navigate_next
Next Departure
05-Dec-2022
Number of Cycling Days
9 Days
Total Cycling Distance
550 kilometers
Average Distance Per Day
55 km
Average Climbing Per Day
10 m
Full itinerary
DAY 1: HCMC/SAIGON - DA LAT
Enjoy a beautiful ride today's afternoon after the long transfer drive by Vietnam By Bike's comfortable Minivan with a local lunch en route at any hill tribe restaurant in highland area, Our professional biking guide will brief you a general activities with any features of bicycle and its techniques.
Lien Khuong is a small town is located in the SouthWest of Da Lat with any beautiful rural backroads and off-roads for biking uphill 3% - 12% to Da Lat Center, we set you this biking loop to get in touch the numerous highlights as Elephant Waterfalls, Beautiful Flower Lane in Nam Bang Village, visit & taste the fried cricket at the people's farms which has the coffeeshop stop to be shared about the top 3 countries are so famous for coffee which is grown there. Check-in at hotel in center of Da Lat Valley City.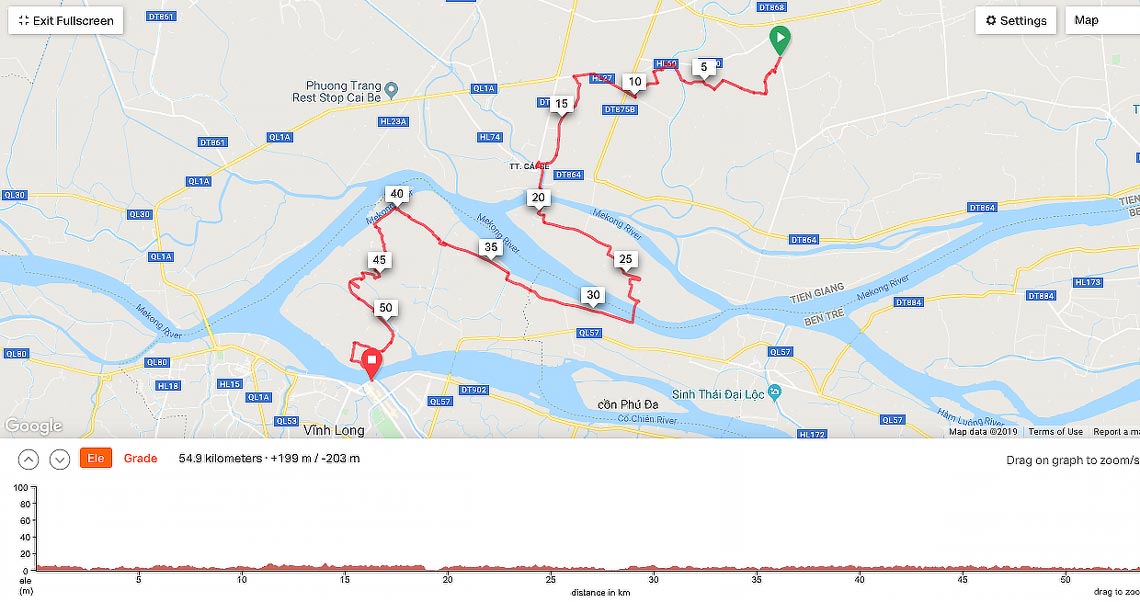 ---
DAY 2: BAO LOC - DA LAT
Today's Da Lat Adventure Cycling around its spectacular Valley City as biking from the resort to the Center's Lake Xuan Huong to enjoy the morning sunrise likes "Spring" and visit Da Lat Crazy House, you then stunning onto the quiet roads to the King Palace of Bao Dai and on to Truc Lam Meditation Pagoda in which you are able to take a walk to Tuyen Lam Pine-tree Lake, you might take a boat trip around this lakeside.
Following the lunch is a short excursion at the Da Lat Flower Garden which is one of the most beautiful tourist attractions in Central Highlands Vietnam with about 1,000 kind of cool weather flowers and its unique ones, explore Da Lat Market or/and jam workshop before ending day at the resort with dinner before your evening free & easy.
---
DAY 3: DA LAT - NHA TRANG
This downhill Adventure day to Nha Trang is divided into different levels with many up/downhills along the rides. The morning is a real challenge ride rolling hills but easy bicycling on flat land in the afternoon. After your breakfast at hotel, we check out for an hour driving by van/bus to rural pine forest, the particular mountain scenery with nice temperature could be a mental stimulation to help you to challenge your cycling skill. After a coffee break and photo taken at Hon Giao's Summit, you will have a wonderful riding downhill on 30 km to Suoi Loi for lunch. In the afternoon, we bike into countryside past sugar cane fields, rice-paddy, thatch houses, local markets to Dien Khanh. You will be driven to Hotel & end of cycling Nha Trang, overnight at Hotel with dinner.
---
DAY 4: NHA TRANG FREE DAY
Relaxing as your own way with any suggests:
👉 Choice 1: Join in any excursion of Snorkeling in Nha Trang Bay, Boating to visit the bunch of island of Mun, Monkey, Con Se Tre for your private swimming beach.
👉 Choice 2: Canoe tour from Cam Ranh Bay where is an important base and famous for seafish village, tortoise penisula and clean yellow sandune.
directions_bike
No Cycling.
---
DAY 5: NHA TRANG - QUANG NGAI
Today you will have an early departure cause of driving length, our biking team will show-off the most beautiful coast as well as dividing into 3 short biking loops in Van Gia Fishing Village, Van Phong Bay and the famous Ghenh Da Dia. You can ride you bicycle on your own space pass sweet potato field, tapioca fields, rice paddy and fishing villages. Depending on your cycling ability and time, our guide could figure out and would tailor make a short route or long routes as to be at the hotel before evening.
---
DAY 6: QUI NHON - QUANG NGAI
In the morning, we will have a 30 minutes transfer by vehicle to back roads by the lake near fishing village as to avoid heavily traffic in town. Ride on small concrete country roads by the lake to Cat Tien. Then we continue cycling on coastal roads to De Ghi. In the afternoon, we ride pass shrimp farms along coastal roads, and travel the homeland of coconut of Tam Quang before an hour and half to go by vehicles to Quang Ngai city.
---
DAY 7: QUANG NGAI - HOIAN ANCIENT TOWN
We check out the hotel and go My Lai memorial by vehicles. Right here, our team will set up and double check all bikes. After your visit the memorial, just jump back to bikes to explore villages of My Lai before we reach to Sa Ky, then Chau O. Transfer to Tam Ky town for lunch. The highlight of today is unique routes in the afternoon. Explore traditional villages, see water buffaloes on rice paddy, monkey bridges and wooden boat factories.
---
DAY 8: HOIAN WALKING & CYCLING
You will enjoy a walking tour around this enchanting port town by Following the narrow lanes lined with centuries-old houses influenced by Chinese, Japanese, French and European architectures and visit its numerous places of interest: the 400-year old Japanese Covered Bridge, the Phuc Kien Assembly Halls, the local fish market … Around the town we can see a numerous art galleries and tailor shops, get some made-to-order clothes if you like.
Afternoon, continue Cycling to Tra Que village. Join the farmers in farming, sowing, watering, picking vegetables and many other gardening activities. Next up, Hoi An boat tour! Follow your guide to the banks of the Thu Bon River to take to the waterways and discover even more of the area. Cruise the river, watch as the sun sets over the river, with bobbing local fishing boats adding to the atmosphere.
trending_down
Mostly Flat
---
DAY 9: HOIAN ANCIENT TOWN
This free day you will be suggested to explore the ancient town at the Tan Ki old house, Japanese Coverage Bridge, Champa museum and take a cooking class with local farmers at Tra Que village..
directions_bike
No Cycling.
---
DAY 10: HOIAN - HUE CITADEL CITY
Leaving Hoi An at 8am to get up north of the Coastal Beach & start cycling along the flat region in the small valley before speeding up to challenge over the Hai Van Pass on the 500m above the sea level which summit was voted the most beautiful coast road in the world. You then turn on to the backroads and lagoon side with a short stop to snap the picturesque scenery and stunning on the impressive landscapes near the lunch spot in Lang Co Beach.
Following the rest, you have another opportunity to pedal through the famous fishing village Named Lang Co and ride further more after the Phu Gia is a good place to pack the bicycle to be transferred to the center of the historic Hue City. Overnight in Asia Hue Hotel.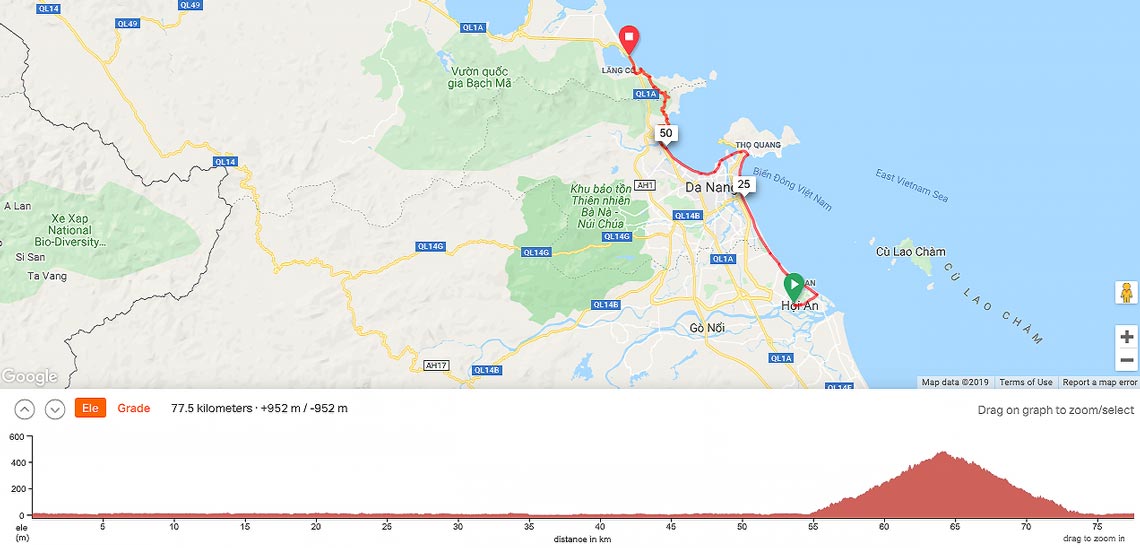 ---
DAY 11: HUE CYCLING & DEPARTURE
In this morning, you will be biked along the legend Perfume River to Ha Khe Hill for a sight visting Thien Mu Pagoda, then rolling down on backroads to the Nguyễn Dynasty Tombs as Tu Duc and Incense village, and continue padelling to the modernest Khai Dinh Tomb with a short stops at the esplanade architecture and observe hill before end of our service around 17h.
---
Tour Details
Facts
Total Cycling Distance

550

km
Avg Distance/Day

55

km
Avg Climbing/Day

10

m
| | | |
| --- | --- | --- |
| location_on | Destinations | Central Coastline |
| flag | Tour Meets | Saigon |
| flag | Tour Ends | Hue |
| flight_land | Fly In To | SGN Airport |
| flight_takeoff | Fly Out Of | HUI Airport |
| group | Group Size | 2-10 Riders |
| vertical_align_bottom | Minium Age | 14 |
Booking Info
If this is your favourite tour here's what you need to do to confirm your place with all departures are appear, you just select your best date you'd like to travel by clicking on "BOOK" link. Once we receipt your inquiry, one of our member will send you the full proposal with the traveler's information in details, if you request for your solo traveler, we will let you know the tour is "available" to "Guaranteed to Departure" or "Standby" to wait for more traveler joining to go ahead with the minimum 2 people are reached. If the trip will be reconfirmed guaranteed to departure, you are free to book your flight, Visa (as this advice for Vietnam Visa if you need) and make all other travel arrangements. If you are unsure any thing about the tour status, please email us at info@vietnambybike.com or call (+84)888541515. You also provide us the extra information such as passport numbers, height, weight. If your child is under 14 years old, please note their birthdate in the message at the end of the booking form. All of the problems will be assisted via above hotline and general email.
DEPOSIT
For less than 5 day tour to secure the service, we require deposit 100 USD/person & for Longer 5 days Tours to guarantee your place we require a 500 USD deposit, whichever is the greater. We also require that you take out travel insurance when you book your holiday. Besides covering you during your holiday it will also enable you to claim for any money that you have paid to us, including your deposit, should you have to cancel your trip.
BALANCE
Deposit must be paid 15 days before the departure date with fees for any bicycle rental(s), single supplement(s) and extra hotel nights. Our confirmation will include personal details you provided us (including your flight information), visa application advice, a packing suggestion list and a detailed tour itinerary. It will also include a checklist to ensure you get everything ready for your holiday.
CANCELLATION POLICY
On the rare occasions when we, VietnamByBike, must cancel a trip, all payments received to date will be 100% refunded, which constitutes full settlement. There will be absolutely no deductions. If you, the client, must cancel your reservation, your cancellation fee will be determined according to when you cancel. For full details, please read our cancellation policy.
LOYALTY RIDERS CLUB
For those who have been on several long tours with us we reward customer loyalty by offering repeat customers a special discount off the tour price (excludes single supplement and bike rental). If this is your fourth scheduled tour or more you will receive a 5% discount. If this is your eighth scheduled tour or more we will extend a 10% discount. The discount will be reflected in your online booking, but please contact us if any questions. Loyalty discounts can not be used in conjunction with any other offer. Note: Only tours of 5 days or more will be applicable for loyalty discount.
INTERNATIONAL FLIGHTS
International flights, to and from the start and finish points are not included in the tour price. Once your tour is Guaranteed to Depart you can book your flight. Please contact us for advice before arranging flights for the best arrival and departure times. We would only cancel a trip for an extreme circumstance, but in that case, where we cancel your trip, we cannot be liable for losses incurred relating to any flight booking you have made. Please claim any losses from your travel insurance that you acquired when you booked your holiday.
Pick Your Best Departure Date
Date
Availability

05 December, 2022

Available

17 December, 2022

Available

05 January, 2023

Available

17 January, 2023

Available

05 February, 2023

Available

17 February, 2023

Available

05 March, 2023

Available

17 March, 2023

Available